Popular WAV Added to Motability Scheme for Q4
Compact VW Caddy Conversion Seats 4+ Wheelchair User
Available for Home Demonstrations Nationwide
The UK's Wheelchair Accessible Vehicle (WAV) specialist Brotherwood have added their popular 'Morelife' wheelchair access conversion for the new Volkswagen Caddy to the Motability scheme.
The Caddy Morelife features a flat, level lowered floor, enabling the wheelchair user to travel centrally, between two rear passenger seats, for optimal comfort and inclusion. The Brotherwood conversion is the most spacious on the market offering 56" of internal headroom – meaning even taller wheelchair users or those with larger powered wheelchairs can travel in a compact, car-like vehicle.
Access is via a short, lightweight, counterbalanced rear access ramp, with an optional winch system relieving the effort of pushing. Brotherwood's unique STORQ system automatically adds tension to the rear wheelchair restraints – ensuring a safe and stable ride, and reducing the time and effort needed to secure the wheelchair.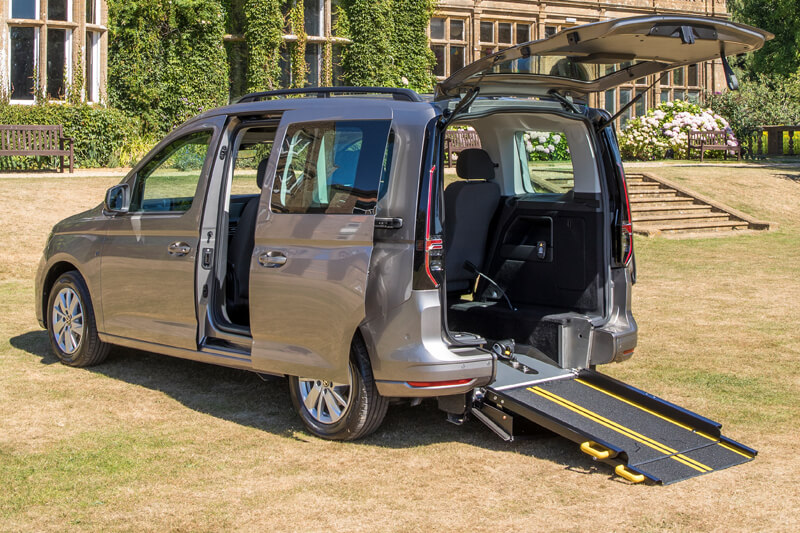 By travelling seated in their wheelchair, the wheelchair user and their family enjoy stress-free journeys without the hassle of lifting or transferring into a standard car seat. Brotherwood's inclusive layout ensures that the wheelchair user travels as part of the family, centrally and as close to the front seats as possible.
The Volkswagen Caddy Life is popular with wheelchair users looking for a spacious, comfortable vehicle, with a compact, easy-to-drive footprint that makes everyday driving and parking a breeze.
Brotherwood are recognised as the market leader in Wheelchair Accessible Vehicle design, and believe that every WAV should prioritise comfort, inclusion and safety for the wheelchair user. Brotherwood are an Integrated Partner of Volkswagen Commercial Vehicles.
Brotherwood offer free, no-obligation home demonstrations nationwide – simply contact Brotherwood today on 0330 1747 555 or visit Brotherwood.com to learn more.