The vehicle manufacturing industry has always been driven by new technologies. From the invention of the seatbelt in the mid-1900s, to more recent developments such as anti-lock braking systems in the 1970s and turn of the century innovations including adaptive cruise control, research and development of technology has been at the forefront of car design for over a century.
Through legislative changes these technologies have become standard across the car industry, improving safety, user experience and environmental impact – benefits which have fed through to all motorists, including people with disabilities and wheelchair users, who require equal access to a vehicle for their independent mobility.
The latest technological development which has proved to be a major turning point in the car industry is the accelerated development of battery powered Electric Vehicles, which, from a small niche has grown to represent a significant segment of new UK car sales, with over 50% of new cars registered in so far 2022 including some form of electrification. With new legislation mandating the end of the internal combustion engine (ICE) by 2030, every new private car sold by 2030 is expected to be battery powered – pending any other alternative fuels that may be developed in the meantime.
A Lack of Choice
Across the new car market, manufacturers are responding to the legislative changes by releasing battery-powered models in almost every segment. However, unlike previous technologies, electric power has not yet been made widely available to those looking for a Wheelchair Accessible Vehicle (WAV) – leading to wheelchair users and their families wondering why the current choice of new Wheelchair Accessible Vehicles available today does not include an equal choice of electric models, as one would find when looking for a small hatchback or family SUV.
WAV Conversion – How and Why
To answer this question, we must first look at exactly how Wheelchair Accessible Vehicles are made. Most WAVs sold in the UK today are classed as small/medium vehicles, with compact models such as the Volkswagen Caddy Life and Ford Tourneo Connect making up 74% of new WAVs supplied via the Motability scheme. 
To convert a compact vehicle into a WAV is a complex process, involving removing a large section of the vehicle chassis, and replacing it with a lowered floor, giving more internal space for a wheelchair user to travel in comfort. A host of other adaptations are also required – an access provision either by lift or ramp, as well as tested and approved safety restraints to securely hold the wheelchair in place.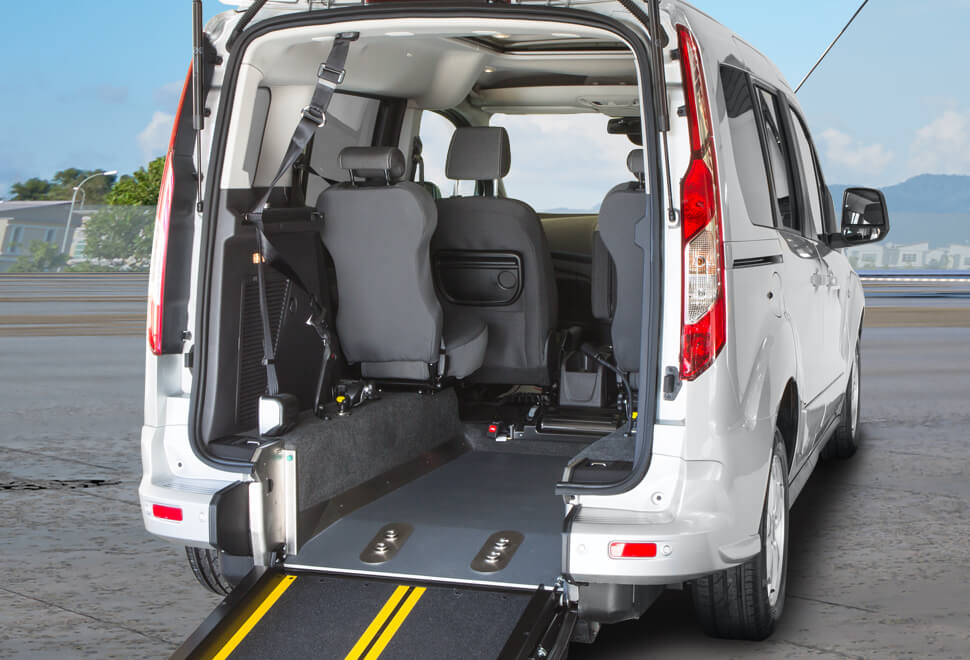 In addition to creating more space within the vehicle, the lowered floor creates several other benefits for the wheelchair user. Lowering the wheelchair user's centre of gravity provides a more stable ride – an important feature in the journey experience, and in turn lowers the wheelchair user's eyeline, giving a better view out of the windows and windscreen, and more headroom for a feeling of spaciousness.
In current petrol and diesel WAVs it is even possible to lower the floor through to the second or first row of seats – enabling the wheelchair user to travel inclusively with friends and family in equal comfort and safety.
A flat, level lowered floor is preferred, as it promotes better posture for the wheelchair user – especially important for those whose disability mandates the use of a posture-optimised wheelchair, people with spinal injuries or those looking for comfort over longer journeys.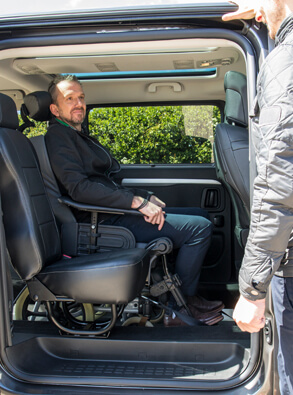 The Battery Problem
Here lies the issue that WAV convertors face when developing electric vehicles. Electric vehicle manufacturers most often place the large vehicle batteries – along with their necessary safety and cooling equipment – under the vehicle floor, between the vehicle's two axles, and in the raised areas under the rear seats; exactly the area usually occupied by the lowered floor of a WAV conversion.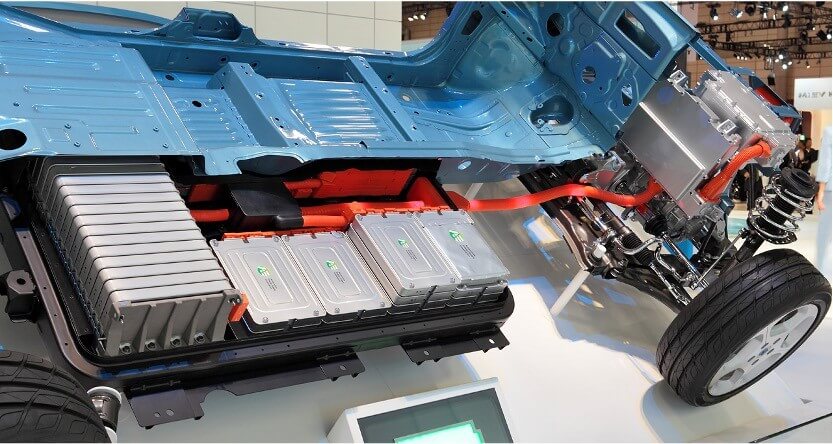 Engineering challenges are nothing new for WAV convertors, who will adopt new ways of working to convert fully electric vehicles. Engineers working on battery vehicles require specialist tools, protective equipment, and training. The greater obstacle for WAV convertors at present are regulatory constraints presented by vehicle manufacturers and legislators alike.
Unlike a petrol or diesel vehicle, which will often be modified in some way by the WAV Convertor, whether changing the exhaust routing or replacing the fuel tank with a unit that fits alongside the lowered floor, Electric Vehicle manufacturers at present prohibit the modification of the large battery packs. Due to the size and complexity of the battery packs it is also unlikely to be feasible to relocate the battery anywhere else – a significant obstacle for companies seeking to convert these vehicles into suitable transportation for wheelchair users.
Regulatory constraints including additional crash testing, fire resistance and protection against charging malfunctions also come into play should convertors relocate or otherwise modify the battery location – the necessary certification and approval for which costing hundreds of thousands of pounds. Combined with the higher purchase price of base electric vehicle (approximately £10,000 when compared to an equivalent ICE-powered vehicle), the result is a drastically increased cost to the customer, and much higher Advance Payments for electric Wheelchair Accessible Vehicles on the Motability scheme.
Research into the development of independently manufactured WAV-specific battery packs has also shown to be unfeasible for adaptation companies due to the extremely high costs and technological restrictions of 'white-label' battery manufacturing.
Compromises
As a result, the immediate future of the electric Wheelchair Accessible Vehicle is likely to be one of compromise – with buyers opting for electric power likely having to forgo either the compact size, internal space, comfortable ride, or inclusion that can be enjoyed in equal amounts with a petrol- or diesel-powered vehicle. WAV conversion companies will only be able to work around the bulky floor-mounted battery packs, limiting the design of new WAVs and reducing consumer choice.
Small electric Wheelchair Accessible Vehicles are likely to be extremely limited in terms of internal space and ride quality. With wheelchair access restricted to the small area behind the rear seats and battery pack, the conversion is likely to be restricted to smaller wheelchairs and those requiring a minimal amount of headroom – and of course content to sit at the very rear of the vehicle. Initial design studies have also shown that any small electric vehicle is likely to feature an extreme slope for the floor of the wheelchair location – undesirable and uncomfortable for the majority of wheelchair passengers.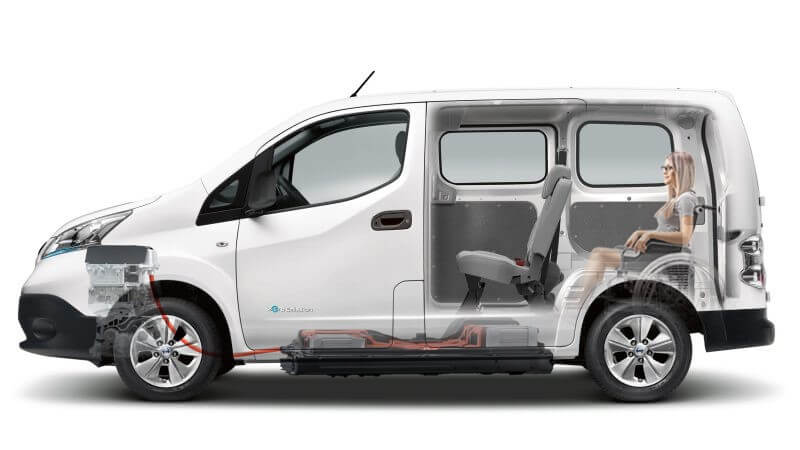 Medium size electric Wheelchair Accessible Vehicles are more feasible – as Brotherwood demonstrated back in 2015 with their conversion of the Nissan eNV-200 fully electric WAV. Whilst the longer space at the rear of the vehicle behind the battery enables the fitment of a flat, level floor, interior space and inclusion are still limited – with the wheelchair user located at the very rear of the vehicle experiencing a more isolated journey apart from friends and family in front.
Many WAV buyers will therefore be pushed towards the largest category of vehicle if they wish to go electric. Only by resorting to the medium/large and large commercial vehicle-based EVs will wheelchair users be able to benefit from the internal space and inclusion that today's compact ICE powered Wheelchair Vehicles can offer. However, most buyers would prefer a smaller, easier to drive vehicle with a compact footprint more suitable for day-to-day driving and parking.
" In short, the result for consumers will be a smaller choice of less capable vehicles, at a much higher price."

Future Development
Looking at the longer term, the potential exists for the development of a greater range of electric Wheelchair Accessible Vehicles before 2030. However, it is dependent on vehicle manufacturers working more closely with Stage 2 Vehicle Adaptation companies, including WAV convertors, to enable more research into how electric vehicles can be manufactured to allow greater flexibility in conversion design. Without this co-operation, affordable access to a wide choice of suitable transportation for wheelchair users is likely to be greatly reduced by the banishment of ICE powered vehicles from the UK's roads.
Is the WAV market ready for electric Wheelchair Accessible Vehicles?
The question remains unanswered!
Only time will tell…
Brotherwood continue to lead the WAV market in challenging vehicle manufacturers to promote equal choice and opportunity for people with disabilities. Follow us online to stay informed of the latest developments across the Wheelchair Accessible Vehicle market.