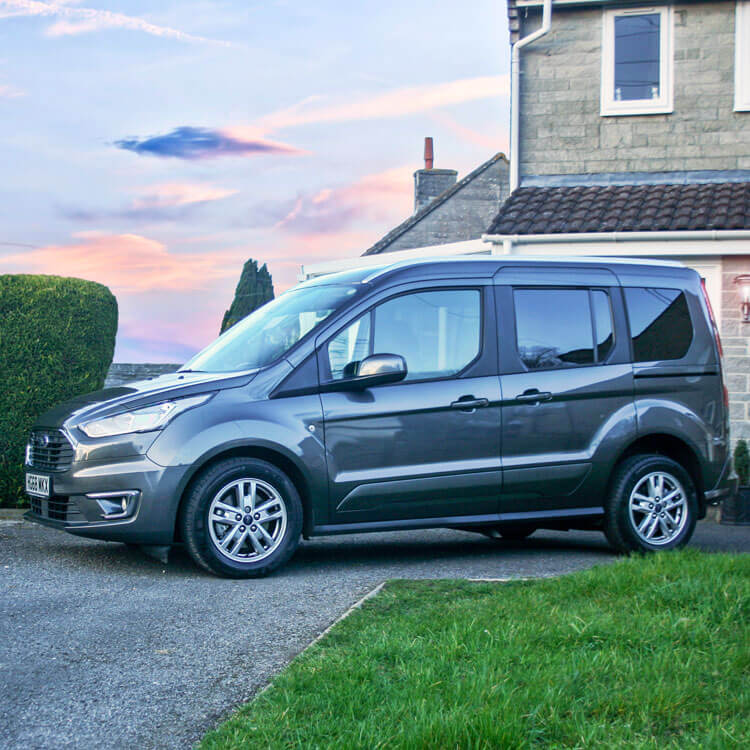 The UK's Wheelchair Accessible Vehicle specialists Brotherwood have kicked off a big year of exciting product launches with the release of the new 2019 Ford Tourneo Connect.
A compact, modern vehicle, the Brotherwood "C'Arete 2" conversion answers client demands for a large amount of space in a small vehicle – the unique Brotherwood low, flat, level floor conversion creating up to 59 inches of internal headroom; enough for even tall wheelchair users to travel comfortably, with plenty of space and good visibility out of the windows. The feeling of space and light is further increased by Ford's large Panorama sunroof, which floods the interior with natural daylight.
The 2019 Tourneo Connect is powered by a choice of clean, economical engines – with buyers able to choose between Ford's EcoBoost petrol and EcoBlue Euro 6.2 compliant diesel engines. With 6-speed manual and 8-speed automatic transmissions to choose from, progress is refined – whilst the wheelchair user, located in the centre of the vehicle between two custom-designed rear seats, enjoys a smooth, comfortable ride. The Brotherwood ethos of providing a travelling position that enables inclusion for the wheelchair passenger is evident throughout.
Wheelchair access is via a short, shallow angle rear access ramp – and can be made easier still with Brotherwood's patented PAWRS combined winch and restraint system. By attaching the front restraints to the wheelchair before loading, the PAWRS device can be used to pull the wheelchair into the vehicle by simply using the remote control – no pushing required. Once inside the vehicle, the PAWRS is locked to become a front restraint system, ideal for even heavy wheelchairs, with no need to attach fiddly front restraints inside the vehicle.
The simple one-piece access ramp is counterbalanced using Brotherwood's clever system, which makes it light enough to be lifted with a single finger. Better still, it operates the patented self-tensioning rear restraints – making the whole process of loading and securing a wheelchair user faster and easier than a standard 4-point anchor system.
On the move, the Brotherwood Tourneo Connect drives like a modern car – quiet and refined – and is packed with technology to make journeys better for driver and passengers alike. From the new Ford SYNC 3 system that enables control of phone, music and navigation by voice control or touchscreen, to intelligent driver assist functions such as speed assist, active park assist, traffic sign recognition, and hill start assist – the advanced features combine to create a relaxing, easy-to-use vehicle. Further peace of mind is provided by the latest safety features which include Pre-Collision Assist, which detects vehicles and pedestrians in the road ahead, or who could cross the vehicle's path, and warns you of their presence. If you don't respond, the system automatically applies the brakes.
You can see the 2019 Brotherwood 'C'ARETE 2' at the 2019 Brotherwood WAV Weekend Event – from Thursday 6th – Saturday 8th June, at the amazing Haynes International Motor Musem in Sparkford, Somerset.

The Brotherwood WAV Weekend gives you the opportunity to explore, test and drive the UK's leading range of Wheelchair Accessible Vehicles, all in one place. Discuss your mobility needs with expert advisors, see the latest products, and enjoy hospitality courtesy of Europes' largest and most prestigious motor museum.

Brotherwood will be be revealing the C'ARETE 2 – AND OTHER ALL-NEW WAV MODELS – at this exclusive annual event. Sign up for tickets today – you won't want to miss this!