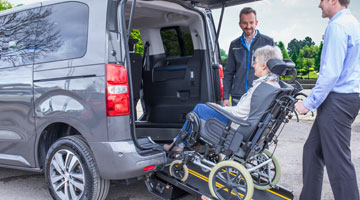 Wheelchair Accessible Vehicles
Wheelchair Accessible Vehicles (WAVs) from Brotherwood® are engineered to enable people with disabilities to travel by car – inclusively, in comfort and safely seated in their wheelchair. We deliver quality Wheelchair Access Cars across the UK. Our bespoke mobility cars are adapted to the needs of wheelchair users and carers. With innovative access and restraint solutions, Brotherwood WAVs are designed to make transport easy for your wheelchair or mobility scooter. Request a WAV information pack to learn more.
Free Home WAV Demonstrations
We offer FREE UK Home Demonstrations of our new wheelchair cars. When you contact us an experienced advisor will discuss your mobility needs before delivering a WAV for you to try. You can test drive any vehicle from our range of new Wheelchair Accessible Vehicles for sale. Contact us today to book a no-obligation home WAV demonstration.
Book a DEMONSTRATION
The Brotherwood® Difference
Brotherwood WAV Conversions stand a class apart for their comfort, inclusion, safety and ease of use. We have been converting cars with wheelchair access since 1985. Using client feedback we develop a unique approach to our disability vehicle conversions.
CONVERSION BENEFITS
How to Choose a
Wheelchair Accessible Vehicle
UNDERSTANDING YOUR WAV NEEDS
---
Our expert team are here to help you through process of buying a new WAV vehicle. Whether you choose from our new WAVs for sale, or buy one of our used wheelchair accessible vehicles; hire a wheelchair car, or lease a new mobility car via the Motability WAVs scheme. We aim to make the process as convenient as possible.
Unlike 'large volume' wheelchair vehicle converters, our priority is not to sell you a vehicle. Instead we aim to provide the best wheelchair accessible vehicle for your needs. We offer a wide range of wheelchair adapted vehicles from manufacturers including Mercedes-Benz, Ford, Volkswagen and more.
Our friendly, experienced staff consult with you to discuss your personal mobility needs. With over 35 years experience of vehicle conversions, we know all of the issues with transporting wheelchair users by car. We pride ourselves on delivering excellent, personal, efficient service, to every client.
CHOOSING A WHEELCHAIR ACCESSIBLE VEHICLE
---
Our accessible vehicles can enable disabled people across the UK to have a sense of freedom and independence from taxis and public transport. Read our WAV Buyer's Guide to help choose a wheelchair-friendly vehicle to suit your lifestyle, and answer your questions about:
Insurance for Wheelchair Accessible Vehicles
Wheelchair Accessible Vehicle Finance
Road Tax Exemption on Wheelchair Adapted Vehicles
VAT Exemption For Wheelchair Adapted Cars
WAV Buyer's GUIDE
How Are Wheelchair Accessible Vehicles Made?
Brotherwood® Wheelchair Cars go through a precision engineered conversion process. With exacting standards for quality, comfort and safety – we call it Engineering to Enable. We expertly hand-craft each adaptation from start to finish in our manufacturing facility in Dorset, England. As a result Brotherwood WAV vehicles are known across the world as the best mobility vehicles for disabled passengers. Take a look at our step-by-step guide to see what makes a Brotherwood WAV conversion so unique.