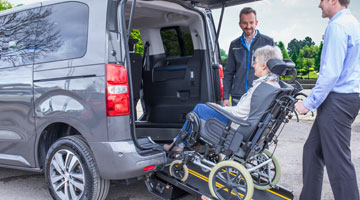 Wheelchair Accessible Vehicle Hire
Brotherwood offer a range of Wheelchair Accessible Vehicles for Hire with UK-Wide Delivery and Collection.
HIRE A WAV
WAV RENTAL
You can now hire a Brotherwood® Wheelchair Accessible Vehicle easily and affordably with flexible rental periods. Our WAVs can be rented for long or short term – choose from a set period below, ask us for a bespoke quotation for a specific term, or keep mobile with a rolling monthly rental for as long as you require.
If you are unsure which Wheelchair Accessible Vehicle to hire, we are here to help. We have a range of large, medium and small rental WAVs which we can advise on which would best suit your needs. Call us today to discuss our Wheelchair Accessible Vehicle Hire options.
Nationwide Delivery
Wherever you are in the country, our dedicated team of WAV experts can deliver to your door and collect when you're done.
Breakdown Cover
Hire a WAV with complete peace of mind with UK-wide Breakdown Cover included at no extra cost. European Cover available by request.
Expert Advice
Brotherwood are the UK's WAV Specialists with a heritage of over 35 years. Our team ensure you get the right vehicle for your needs.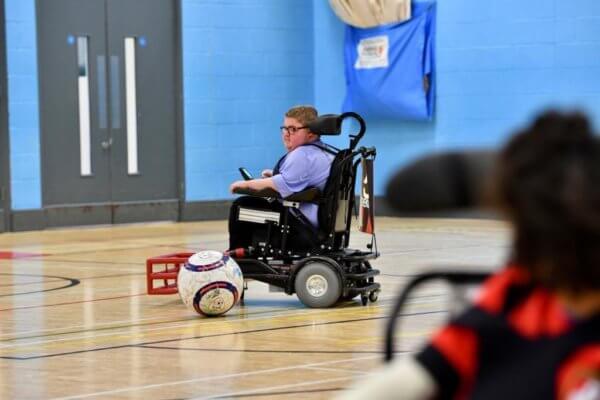 The Brotherwood Hire team were delighted to be able to help at short notice for Powerchair Footballer Adam, when an issue with his own Wheelchair Accessible Vehicle looked certain to leave him on the sidelines for an important away game in the Wheelchair Football Association Premiership. [...]
READ MORE
There are many reasons why you might choose to hire a Wheelchair Accessible Vehicle from Brotherwood:
For annual holidays and trips;
Visits to friends and relatives;
Days out with the whole family;
To try a WAV before purchasing;
For transport during temporary disability or illness;
While your own WAV is off the road.
Call our WAV Rental Hotline
0330 1747 545
(FREEPHONE)
WAV RENTAL
Wheelchair Accessible Vehicles for Hire
GET 7 DAYS FREE
Try Before You Buy
If you're considering purchasing one of our new Wheelchair Accessible Vehicles, why not book a 7-day hire in one of our demonstration fleet?
When you decide it's the perfect vehicle for you, we'll refund the cost of your first week of hire* from your order – giving you a full week of free motoring to really get to know your new vehicle.
*Excludes insurance and delivery costs.
BOOK NOW
LOCATION
WAV Hire for the South West & Beyond
Based on the border of Dorset and Somerset, Brotherwood is the perfect location to hire a WAV in the South West for your summer holiday.
With easy access to the Jurassic Coast and it's beautiful beaches, and en route to Devon and Cornwall, hiring a WAV for a stay in the countryside has never been easier.
We also serve the whole UK and can collect & deliver nationally – call us today for a personalised quote.
SPECIAL OFFER
FREE Nationwide Delivery & Collection
On all Brotherwood Wheelchair Accessible Vehicle Hire when you book 12 weeks or more!
*Mainland UK only. Offer applies to selected vehicles.
BOOK NOW
TERMS & CONDITIONS
Terms of Hire for Wheelchair Accessible Vehicles
1. LIABILITY FOR FIXED PENALTIES, OTHER OFFENCES AND INSURANCE POLICY
The customer acknowledges that throughout the duration of this agreement the customer will be liable as owner of the above vehicle in respect of any fixed penalty offences, excess charges and the like which may be incurred under the Road Traffic Offenders Act 1988 and the Road Traffic Act 1991 (both as amended or replaced from time to time). The hirer also accepts liability for other penalties incurred during the hire period including for non-payment of the London Congestion Charge. Average mileage is limited to 80 miles per day for any
Hire Period up to 30 days, OR 60 miles per day for any Hire Period exceeding 30 days unless agreed in advance in writing by Brotherwood.
2. EXCESS MILEAGE & ADDITIONAL CHARGES
• Excess mileage will be charged at 40 pence per mile.
• Any insurance provided through Brotherwood includes two named drivers'. For each additional driver, an administration fee of £25 is chargeable. Any amendments required to existing named drivers would incur a further charge of £25.
• A £150 charge will apply in the event that the vehicle smells of tobacco or smoke.
• General internal and bodywork damage will be charged out at cost plus an administration charge of 10% of the total costs associated with the repair costs (to cover ordering and collecting parts, obtaining quotes for repairs, delivering vehicles for repair and invoicing).
• If, due to gross negligence (such as, but not limited to: driving through flood water, driving into an overhead object), it is necessary for the vehicle to undergo repairs, you may be additionally liable for the full cost of repairing damage to the actual vehicle supplied, administrative fees, plus loss of revenue at the prevailing daily rate (up to the value of one month's full rate hire of the vehicle).
• In the event of the theft of the vehicle owing to your negligence (such as leaving it unsecured, or through loss of keys), we may hold you responsible for the loss of the vehicle, plus you will also be charged the excess, administrative fees plus loss of revenue at the prevailing daily hire rate (up to the value of one month's full rate hire of the vehicle) following the incident. If the vehicle is stolen, it should be reported immediately, and in any event within 24 hours, after the vehicle was stolen. It should also be reported to the police immediately and a crime reference number should be obtained.
3. INSURANCE
The hirer is responsible for insuring the vehicle for the duration of hire. Insurance is to be covered no less than fully comprehensive. An insurance cover note is required. The hirer may choose to use Brotherwood Hire Insurance, subject to status, and additional costs. Insurance acceptance is made at the discretion of Brotherwood Automobility Ltd. Brotherwood are not able to insure drivers' under the age of 21 or drivers' with any more than 6 penalty points on their licence, although not guaranteed. Certain driving offences may prevent us from providing insurance.
4.1 DEPOSIT – HIRE AGREEMENT
A refundable insurance excess of £500 (or £2,500 for Mercedes-Benz V-Class models) is payable for the hire duration to cover the following:-
• Minor accident damage
• Windscreen or glass damage
• Insurance excess where applicable
• Extra valeting where vehicle is returned excessively dirty
• Fuel – Brotherwood, where appropriate, will ensure that the vehicle is fully fuelled on handover. Vehicle to be returned with matching level of fuel as on delivery or 110% of the cost of top-up and £25 administration fee will be deducted from deposit.
• Any uninsurable damage (Including wheel and tyre damage).
Return of deposit will occur no less than 3 weeks after the hire end date to allow notification of any motoring, driving or parking offences to be received. A minimum administration fee of £25 will be deducted for every fixed penalty notice received and processed on your behalf (Parking, speeding, congestion charges, tolls or similar). If Brotherwood are unable to contact the hirer to issue the deposit refund, or a deposit refund is unclaimed within 3 months of the hire end date, the deposit refund will be forfeited by the hirer.
4.2 DEPOSIT – LOAN AGREEMENT
Retrospective charges may be applied at our discretion if the vehicle is returned with any defect including but not limited to the above. Charges exceeding the deposit amount will be invoiced to the hirer payable on receipt.
5. UNAUTHORISED EXTENSION / FAILURE TO RETURN
Any unauthorised extension of the hire / loan agreement or failure to return the vehicle on time may incur a charge up to £200 per day. Brotherwood reserve the right to recover the vehicle in the event of non-payment of any monies due.
6. UNAUTHORISED DRIVERS
All persons must complete the SELF DRIVE HIRE PROPOSAL form and be authorised by Brotherwood before driving the vehicle (unless privately insured by the vehicle Hirer).
7. VEHICLE MISUSE / ABUSE
Brotherwood reserve the right to terminate the Hire/Loan agreement and recall the vehicle at our discretion in the event of any actions deemed to be deliberate misuse or abuse of the vehicle.
8. EUROPEAN TRAVEL
A letter of authorisation will be provided for clients who require a vehicle for European travel. Disclosure of intended destinations will be required from any client looking to travel within the EU. Brotherwood will provide a European travel kit (Breathalyzer, warning triangle, hi-vis jackets, etc) alongside a copy of the V5C registration document. An additional £100 insurance charge will apply for European travel insurance and a further £100 charge will apply for European breakdown cover.
9. ACCIDENT AND BREAKDOWN PROCEDURE
You shall, in the event of an incident that results in damage to the Vehicle, ensure that:
• The driver of the Vehicle completes and delivers to Brotherwood Automobility Ltd the relevant accident report and photos within 48 hours after the end of the hire period.
• No admission of liability is made to any person in relation to such accident;
• Any writ of summons, summons or other document relating to any proceeding arising out of such accident is forthwith delivered to Brotherwood Automobility Ltd at the address on the motor rental agreement;
• All assistance is rendered to Brotherwood Automobility Ltd and its insurers to the conduct of such proceedings including without prejudice to the generality of the foregoing permitting such proceedings to be brought by Brotherwood Automobility Ltd in the name of the hirer and defending any proceedings brought against the hirer;
• You shall pay or reimburse Brotherwood Automobility Ltd against all losses, liabilities, costs, actions, claims or demands which it may incur or have brought or made against it in relation to the Vehicle or its use and which are not recoverable under a policy of insurance whether the same is effected by Brotherwood Automobility Ltd or hirer;
• The names and addresses of all witnesses thereto are collected and given to Brotherwood Automobility Ltd.
• Brotherwood Automobility Ltd provide Repair and Recovery Services in the event of an accident or breakdown. We will advise you of this procedure when you collect the van. A full Breakdown Relay service is provided if the vehicle cannot be repaired by the road side.
• Whilst we make every effort to ensure our vehicles are in full working order – we will not accept liability for consequential losses or claims arising from breakdown, accident or other cause. We will, however, do our utmost to provide you with a replacement vehicle, subject to availability, or offer a refund.
10. HIRER OBLIGATIONS
The hirer agrees to not use the vehicle for hire or reward, nor use it in violation of any law, ordinance or regulation, nor remove it (without prior written consent) from the UK mainland. The hirer agrees to not carry more passengers than the seating capacity of the vehicle, or allow the vehicle to be overloaded. The hirer agrees to further protect the interests of the insurer and Brotherwood by ensuring the vehicle is always parked as safely as possible, locked when unattended, and the keys are kept secure. No person is permitted to drive the vehicle when unfit through drink or drugs or with blood alcohol concentration above the limit prescribed for the time being by road traffic legislation. The vehicle shall not be driven by any other person other than the hirer or additional drivers(s using the vehicle). The vehicle shall not be used under authority of any licence other than his own If you or any other driver leaves the car unlocked or fails to secure the keys or if the vehicle is driven in a reckless or imprudent manner or if the vehicle is deliberately damaged, additional charges may apply.