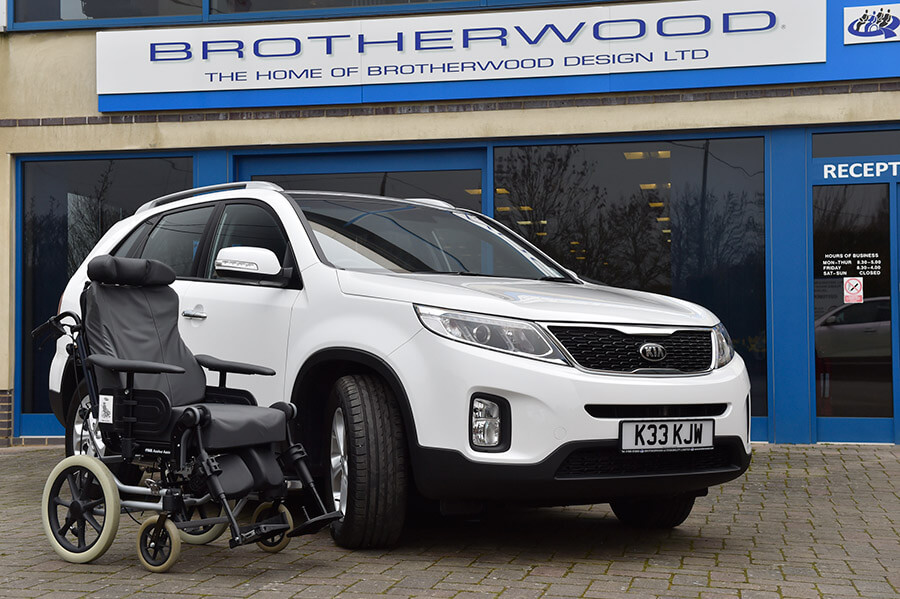 Kia Motors UK Ltd, is delighted to announce a partnership with Brotherwood, one of the UK's leading vehicle converters, specialising in customising cars for disabled passengers. This month sees Brotherwood become the first vehicle converter to offer the Kia Sorento to the UK's wheelchair passenger market. Adapting the car to provide users with a sleekly designed SUV on the outside, Brotherwood has transformed the inside of the Sorento's cabin for quick and simple wheelchair access to journey as a front-seat passenger.
In close conjunction with Kia, Brotherwood has worked to ensure that everything from the Sorento's sleek yet bold design to its industry-leading seven year warranty is retained for its customers.
Using the base vehicle design from Kia, the engineering team at Brotherwood has converted the Sorento to feature rear-access via a specially designed ramp. With back seats that fold easily to one side, the wheelchair user simply enters the car and is stationed next to the driver's seat, secured safely by a harness. The front passenger cabin has been lowered to allow for the wheelchair user to sit at the same height as the driver for comfortable visibility, as well as giving a lower centre of gravity for greater stability when in transit.
John Daniel, Managing Director at Brotherwood comments: "We're delighted to launch the Kia Sorento to our customers. Not only is it a spacious car that meets our customers' needs, the Sorento is a stunningly designed SUV you want to drive and be seen driving."
Brotherwood serves customers across the UK and as far away as South Africa and New Zealand. The company also works closely with a number of Kia's own dealerships, including FJ Chalke. Steve Fowler, Director, at FJ Chalke says: "We've been working with the team at Brotherwood for 25 years and our customers are always more than satisfied with the quality of vehicle they receive. What I admire most about Brotherwood's engineering process is that they never fail to keep the integrity of the base vehicle, whether that's the aesthetics or the warranty. And they've done exactly that with the new Kia Sorento; the modification makes for an ideal family car, but with the added wheelchair access feature."
Vehicle features
– Quick simple easy loading operation
– Low level forward wheelchair positioned alongside driver with excellent visibility
– Secures up to 190 kilos
– Full four-point wheelchair restraint system with lap and diagonal passenger safety belt
– Long range 56 Litre aluminium fuel tank
– New STO-Matic easy folding rear seating – 4×2 Sports Utility Vehicle (SUV), identical to the AWD but transformed to suit accessibility for the wheelchair passenger
– Engine – 2.2 litre CRDi Euro V 194 bhp Diesel
– Transmission – 6-speed manual transmission, 6-speed automatic gearbox, Electronic Stability Control (ESC) & Vehicle Stability Management (VSM), ABS with Electronic Brakeforce Distribution (EBD) & Brake Assist System (BAS)
– Fuel Consumption: 50-57 mpg (Extra Urban)
About Kia and Brotherwood
Founded in 1985 by Rod Brotherwood, the Dorset-based business has converted over 4,000 vehicles for wheelchair access from its factory in the village of Sherborne. The relationship with Kia began in 2006, when the team at Brotherwood identified the features of the Kia Sedona as perfectly compatible for its operation. In the last eight years, seeing the success of the converted Kia Sedona, Kia's brand quality and desirability has progressed from strength to strength, and Brotherwood has built a loyal Kia customer base. When the all-new Sorento launched to the UK, Brotherwood was struck by its ample interior capacity, but even more so by the design and functionality of Kia's SUV. These features coupled with an unbeatable seven year warranty, the Kia Sorento offers quality, design and peace of mind.
John Daniel explains further: "The development of each new model takes the company around 15 to 18 months of careful testing and design to meet the stringent requirements of Full European Vehicle Type Approval, so we are very considered with our research into what's on the market. The Kia Sorento presented plenty of space for our alterations, making it ideal for our core customer requirements. Kia's technical team was on hand at every step to help the engineering process, and we were therefore able to retain Kia's valued seven year warranty."
About the Kia Sorento
The new Kia Sorento is a ground-breaking SUV with ample space for seating combined with agility and comfort in one stylish package. There are five models in the range comprising the 'KX-1', 'KX-2', 'KX-2 Sat Nav', 'KX-3 and the new range-topping 'KX-4'. The exterior of the new Sorento has been re-designed giving it a sleeker, more elegant profile whilst the body-coloured front and rear bumpers emphasise its striking looks and modern design.
The new Sorento range builds on the heritage of its popular predecessor whilst benefitting from being 10mm lower in ground clearance which combined with the shallow ramp helps wheelchair loading. The new lightweight platform also allows the range to benefit from class-leading efficiency and driving dynamics.
The Sorento is covered by Kia's pioneering seven year vehicle warranty consisting of three year/unlimited mileage and four to seven year/100,000 mile full manufacturer's warranty including a 12 year/unlimited mileage anti-perforation warranty.
Add in engaging SUV performance, low CO2 emissions from just 155g/km, superb levels of technology and the new Sorento is the perfect companion for all of life's adventures.