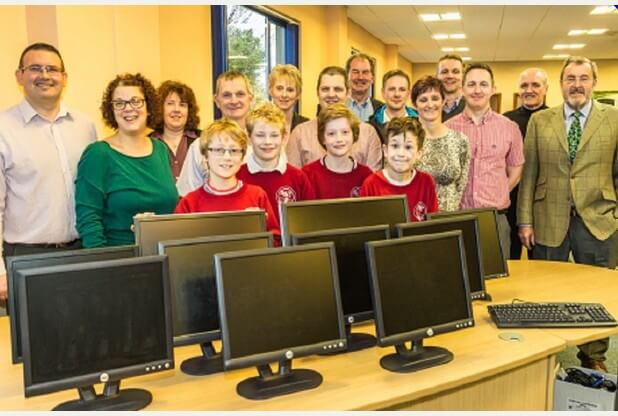 A company based near Sherborne donated computers to its local primary school following an overhaul of its IT system.
Brotherwood Automobility Ltd, Beer Hackett, recently replaced its computers. Rather than dispose of its former IT equipment it decided to donate it to Thornford Primary School. The company invited the school children along to the business to collect the donated equipment and learn about technology in the work place.
John Daniel, managing director of Brotherwood Automobility Ltd said: "We recently overhauled our entire IT system in order to modernise our processes and make our customer service more efficient.
"These changes meant that our PCs were surplus to our requirements, despite still having plenty of life left in them. "We are always looking for ways to support our local community. Thornford Primary is our local school and so was the outstanding choice for us.
"The equipment we donated will mostly be used for organisation and administration purposes around the school – hopefully this will not only benefit the children but the staff at Thornford Primary as well. "The pupils from the school were excited to receive the equipment, and took the opportunity when they came to collect it to take a tour of our factory too.
"We are also hopeful that we can continue working in partnership with the school and look forward to involving the children in future projects where we can draw on their creativity and enthusiasm."
Headteacher at Thornford Primary School, Ian Bartle, said: "The children were thrilled about the donation and four of our senior pupils spent over an hour with John Daniel touring the factory and seeing how IT and the curriculum they are learning at school relates to real-life jobs.
"The children live in a world of PC's, tablets and laptops and need to experience their benefits to utilise later in life. Our children will be well placed to work and live as they grow up with confidence in technology.
"We will use the IT equipment to replace some out of date machines which would have cost us valuable finances to replace. Like all public services we are under constant financial pressure and this will mean we can use funds elsewhere."
Read more at WesternGazette.co.uk