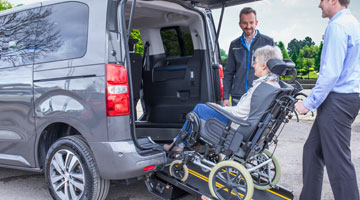 Wheelchair Accessible Vehicles in Dorset
If you are looking for Wheelchair Accessible Vehicles in Dorset, then Brotherwood® is the perfect choice.
Based near Sherborne, Brotherwood® is the specialist supplier of Wheelchair Accessible Vehicles in Dorset, offering a range of new and used WAVs. We can demonstrate a Wheelchair Accessible Vehicle before you decide to purchase, whether it is in our Dorset WAV showroom, at your home or a convenient location to suit you.
We have a team of friendly, caring individuals who will guide you through the process of buying a used Wheelchair Accessible Vehicle in Dorset, or choosing from our range of new Wheelchair Accessible vehicles for sale in Dorset. Whatever your question, our team are here to help with the process.
If you need to visit our Dorset Wheelchair Accessible Vehicle showroom, it is always best to Contact Us to ensure we have a WAV advisor free to help you with all your questions and to demonstrate our WAVs to you.
New Wheelchair Accessible Vehicles for Sale in Dorset
To see the current range of new Wheelchair Accessible Vehicles we convert in our Dorset factory, please take a look at our New WAVs for Sale. Here you will find the various models by Volkswagen, Ford, Mercedes-Benz and more that we currently offer in our Dorset showroom. If you require any advice, please do not hesitate to call us or read our Buyer's Guide for some advice on making the right choice.
Used Wheelchair Accessible Vehicles for Sale in Dorset
In our Used Wheelchair Accessible Vehicles section you will find an extensive range of preowned and ex-demonstration wheelchair vehicles currently available in our Dorset showroom. Here you will find a number of vehicles that we have refurbished for resale. You can filter our stock by vehicle make, model, mileage, fuel and features, not forgetting the all important price. We try to provide as much information as possible, but in the event you have a specific question about one of our used WAVs, please do not hesitate to Contact Us.
Wheelchair Accessible Vehicle Hire in Dorset
We have a number of Wheelchair Accessible Vehicles for Hire from our Dorset showroom. Whether you need to hire for a holiday, a day trip, or to try out a vehicle before making the decision to purchase; we have a comprehensive range for you to choose from, based on your mobility needs. Our Dorset Saver Weekend Rates offer great value if you are able to collect the WAV from us; alternatively our Hire WAVs can be delivered across the UK to a location more convenient for you.
Motability WAVs in Dorset
Brotherwood® are an approved Motability WAV Convertor and offer a wide range of Wheelchair Accessible Vehicles on the Motability Contract Hire scheme. With affordable advance payments, we are the South's number one choice for WAVs on Motability.
If you will have trouble visiting our Dorset showroom, you can now take a Virtual Tour of our Dorset showroom and factory from the comfort of your own home. Our industry leading facilities enable us to create the very best Wheelchair Accessible Vehicles that set the standards for comfort, inclusion and safety.